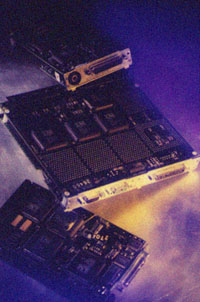 XVideo Family for Sun Workstations
XVideo-VIO was discontinued effective 12/31/97. Only refurbished XVideo-VIO cards are available for purchase.
PowerVideo and MultiVideo cards were discontinued effective 6/15/98. Some refurbished PowerVideo and MultiVideo cards are available for purchase.
Technical specifications for XVideo, PowerVideo, and MultiVideo
XVideo&reg, PowerVideoTM, and MultiVideoTM deliver corporate quality video for Sun workstations in a multi-depth framebuffer. They suit a range of demanding video applications, from live display to real-time capture to multi-point video conferencing. Full video resolution with 24-bit true color accurately renders details for precise, lifelike imaging.
XVideo includes a second live display for monitoring and analog output for archiving images and video. Fast JPEG hardware compression and decompression is independent of the CPU and has excellent image integrity. Select PowerVideo or MultiVideo if you prefer a streamlined feature set for end-users.
Get started quickly with the applications provided, or create powerful custom solutions with the Video Development Environment.
Full-motion video: 60 fields=30 frames/second NTSC, 50 fields=25 frames/second PAL or SECAM
Full-resolution video: 640 x 480 pixel NTSC, 768 x 576 pixel PAL or SECAM, with hardware zoom to full screen (double width/height)
True color video: 24-bit RGB video
High-resolution 4:2:2 M-JPEG: XVideo700 and PowerVideo700 offer motion-JPEG hardware compression to support real-time video capture and playback and networked video
On-board video digitization: video digitization and live display is handled entirely by the Parallax card and connected directly to the display, so it does not impact Bus traffic or CPU load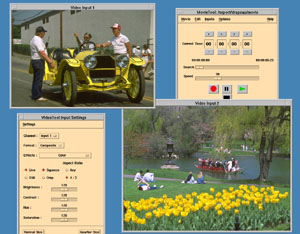 &quotDistributed video, in conferencing, training, and on-line TV services, is central to growth in the telecom industry. Parallax Graphics quality and application support have defined the standard for video in our market.&quot
--JOHN McMENAMIN, Associate Director, NYNEX

Technical Specifications
XVideo, PowerVideo,
and MultiVideo
Capabilities
Video Display
XVideo: Display up to two simultaneous live video windows from composite and/or S-VHS (Y/C) analog inputs
PowerVideo and MultiVideo: Display one live video window from a composite analog input
Video Input Formats
XVideo: NTSC, PAL, SECAM as composite or S-VHS (Y/C), software selectable
PowerVideo or MultiVideo: NTSC, PAL, or SECAM as composite
Video Output Formats
XVideo (only): Send digital video overlay out to a VCR or other device as NTSC or PAL, as composite or S-VHS (Y/C)
Compression
XVideo and PowerVideo (only): Hardware accelerated 4:2:2 JPEG compression and decompresson for real-time motion video capture and playback, and for live networked video (compression ratios 15:1 to 100:1)
Video I/O Cable/s
XVideo: HD15 to 3 BNC and 2 DIN cable, 5W1 to BNC cable, plus RCA adapters
PowerVideo or MultiVideo: RCA to RCA cable, plus BNC adapter
Software
VideoTool, MovieTool, Video Development Environment (see decriptions below)
Video Performance
NTSC
640 x 480 pixels @ 60 fields (30 frames) per second (525 line)
PAL/SECAM
768 x 576 pixels @ 50 fields (25 frames) per second (625 line)
Sampling Frequency
Square pixels 525 line: 12.2727 MHz, 625 line: 14.75 MHz
Placement
Arbitrary placement on screen; real-time image sizing; switch video on a pixel-by-pixel basis
Clipping/Stenciling
Pixel-by-pixel masking of live video
Framebuffer
and Display
Performance
32-bit Framebuffer
Multidepth (24-bit and 8-bit) with graphics acceleration
Image Memory
1152 x 900 x 32 bits
Display sizes
XVideo: 1152 x 900 @ 76 or 66 Hz
PowerVideo or MultiVideo:1152 x 900 @ 76 or 66 Hz; 1024 x 768 @ 72 Hz, 640 x 480 @ 60 Hz
Color Modes
24-bit RGB video and graphics, 8-bit pseudocolor graphics
Display Connector
13W3 (connects to Sun standard display cables)
Software Support
Applications
VideoTool supports video display and still image capture;
MovieTool supports motion video capture and playback
Developer Tools
Video Development Environment includes API, libraries, widgets, and sample source code and programs so you can build your own video applications
Driver
Device driver for Sun Solaris
Interoperability
Interoperable with Parallax Graphics SBus/Solaris and PCI Bus/Solaris video overlay cards and software (XVideo Xtra) and EISA Bus/HP-UX video overlay cards and software (XVideo700, PowerVideo700, and MultiVideo700); captured movies, networked video, and still images can be used by third party software applications
Video Architecture
Video Framebuffer Card (1152 x 900 x 32 bit framebuffer)
System
Requirements
Platform
Sun workstations with SBus slots (see Release Notes for a current list of tested systems)
Bus Interface
XVideo: Two adjacent SBus slots
PowerVideo or MultiVideo: One available SBus slot
Operating System
Solaris 1 (SunOS 4.1.x) or higher (tested with 1 through 2.5)
Window Environment
OpenWindows or CDE
Available Disk Space
35 Megabytes (MB) space on a local hard drive
System RAM
64 MB recommended (32 MB minimum)
Swap Space
64 MB recommended (32 MB minimum)
Display Resolutions
XVideo: 1152 x 900 @ 76 or 66 Hz
PowerVideo or MultiVideo:1152 x 900 @ 76 or 66 Hz; 1024 x 768 @ 72 Hz, 640 x 480 @ 60 Hz
Environment
Power Requirements
XVideo: 4.3A@+5VDC ±5%; 0.065A@±12VDC ±10%
PowerVideo and MultiVideo: 3.2A@+5VDC ±5%; 0.02A@±12VDC ±10%
Operating Temperature
10 - 50 degrees C (50 - 120 degrees F)
Calculated MTBF
XVideo: 40,000 hours (Mil 217 at 25C)
Warranty
1 year limited hardware warranty (included). Extensions available (optional).

How to Reach Us
Contact Parallax-authorized resellers and Parallax direct sales
---

[ Home ] [ New! ] [ Products ] [ Solutions ] [ Support ] [ Company ] [ Contacts ]
Copyright 1998 Parallax Graphics, Inc. All rights reserved.