Digital Video for Neurosurgery
Video-Assisted Telemedicine and Robotics At University of Virginia, Neurovisualization Laboratory
Imagine a patient needs emergency surgery right now, and can't be transported. Perhaps the patient is in a rural area, an under-served inner-city, or in a battlefield MASH unit. The surgery is complex, and the local doctor would like the assistance of another surgeon, but the expert is far away.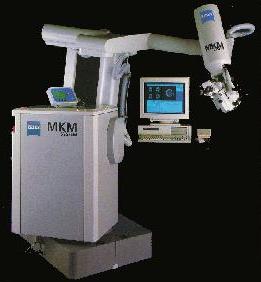 New telerobotics technology enables a physician to remotely observe, advise, and even participate in neurosurgery.

The University of Virginia is developing telerobotics technology to make it possible for a doctor to advise and participate in surgery from far away. At the University's Neurovisualization Laboratory (NVL), a group of engineers and medical experts are collaborating to develop telerobotics for highly accurate direction of surgical microscopes and other robotic tools.
High-Quality Video for Remote Participation
NVL's Integrated Remote Neurosurgical System (INRS) uses Parallax video technology to bring live 30 frame/second video from the microscope and overhead video camera to the remote observer in real-time. The remote observer can position the microscope, control focal length, aperture and focus depth. The Parallax technology also supports videoconferencing and image archiving applications created at NVL with the help of Parallax's developer software. People working on the project have developed intuitive user interfaces including hand-held tools that surgeons can understand and use easily.
This technology also is excellent for pre-surgical planning, post-surgical critique, and for medical mentoring and training on complex procedures. For learning, the observer can watch "up close" and see how the expert operates without being in the way in the operating room. Students and doctors from across the country or the world can learn innovative techniques firsthand.
The University of Virginia is already using related technology for surgical planning and visualization and for medical-related videoconferencing in a real clinical setting.
For more information about NVL and the University of Virginia program:

---
[ Home ] [ New! ] [ Products ] [ Solutions ] [ Support ] [ Company ] [ Contacts ]
Copyright 1997 Parallax Graphics, Inc. All rights reserved.