Wal-Mart and OfficeMax Choose Video Kiosks for Retail
With The Allied Group's InTOUCH Software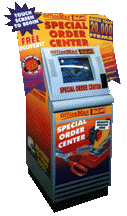 Two very large retailers, Wal-Mart and OfficeMax, have both chosen high-performance kiosks from The Allied Group to provide customers with instant access to information. Wal-Mart's kiosks provide gift registry information, while OfficeMax's kiosks offer advertising, give out product information, and take customer sales orders. At both retailers, fast-response workstations and high-quality digital video was essential to attracting and maintaining customer attention.
Wal-Mart's Gift Registry Kiosks
Customers at Wal-Mart Stores in the United States, Canada, and Puerto Rico, can now instantly access gift registry information through high-performance networked kiosks. Customers use the in-store kiosks to look up registered gifts for weddings, baby showers, and other special occasions. Wal-Mart, the world's largest retailer, has so far installed the kiosks in more than 60 locations.
"Wal-Mart has been pleased with customer feedback on our gift registry kiosks," said Kevin Turner, vice president, information systems at Wal-Mart. "The kiosks developed by Sun, The Allied Group, and Wal-Mart make gift giving more convenient, and further our commitment to provide the highest level of customer service."
"Allied's inTOUCH kiosk software was selected for the project because of its ability to meet the high customer service standards Wal-Mart set for its kiosk initiative," said Tom Colleary, The Allied Group's national sales manager for interactive services. "The inherent qualities of instantaneous response time, full screen TV-quality graphics, and seamless integration into Wal-Mart's existing communications infrastructure were all decisive factors in the selection of the Allied and Sun solution."
OfficeMax Advertising and Sales Kiosks
OfficeMax, Inc., one of largest office product retailers in the U.S., is implementing a new multimedia kiosk system in more than 550 stores. The networked kiosks display product advertising, and help customers get information and place orders for over 25,000 office supplies, computers, machines, and furniture. The kiosks' touch-screen interface is easy for customers to use. They can search for a product, get information, watch advertisements with high-quality, full-screen video, print coupons, find out pricing and availability, order with their credit card, and get a receipt. The kiosks are networked for rapid updates of retail and advertising data and for direct uploads of product order data to OfficeMax's inventory management system.
OfficeMax's Chairman and CEO Michael Feuer said, "Working with Sun and The Allied Group, we have designed a system which uses the power of the network, linking information gathered by the kiosks directly to our in-store systems and Sun-based web site (www.officemax.com). The result: instant updates on product availability and pricing, reduced inventory, an added marketing vehicle for our vendors, and the ability to offer customers literally thousands more items without having to increase the physical dimensions of our stores."
The networked kiosks use The Allied Group's InTOUCH kiosk software and touch screen technology, Sun workstations, and video cards from Parallax Graphics. The Allied Group provides kiosks, multimedia, internet design, system integration, and database applications to corporations throughout the U.S.
For more information, contact The Allied Group at:
Related article about workstation-based kiosks:

---
[ Home ] [ New! ] [ Products ] [ Solutions ] [ Support ] [ Company ] [ Contacts ]
Copyright 1997 Parallax Graphics, Inc. All rights reserved.