Chase Manhattan Bank Installs Video Network
Financial traders at Chase Manhattan Bank in New York jumped ahead of their competition with a new video communication system from Uni-Data & Communications. The result for Chase was instantaneous point and click high quality video and audio to access information on the network.
Video Offers Critical Information
Traders and managers use the video for live monitoring of breaking news on broadcast TV, trading floor events observed by video cameras, and market data feeds. This information and the ability to video conference with other traders helps them respond immediately to market changes. The traders multitasking workstations allow them to view video while running other financial applications.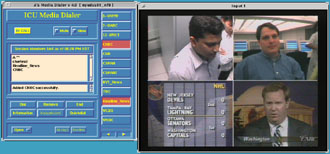 Chase Manhattan's financial traders use digital video to keep track of breaking news that may affect stock values, to watch the trading floor, and to video conference with other analysts and traders.

Traders use videoconferencing to instantly confer with each other on split second buy/sell recommendations. Chase vice president William Schimoler says, "Adding the dimension of video to the interaction between traders allows us to capture non-verbal cues to their reactions to market conditions."
TV-Quality Video
Uni-Data & communications, a large technology integrator, designed the I.C.U. (Integrated Communication Utilities) video conference system to add video without overloading the existing data network. Uni-Data added an analog video network, which runs parallel to the data network on the trading floor. This shadow LAN runs on standard twisted pair wiring and provides each user with TV-quality video and audio, with no impact on the data network.
Uni-Data worked closely with end-users at Chase to design the system. "Bankers use video differently from doctors," says Uni-Datas vice president of multimedia services, David Brenner. "We can't make assumptions about how people use video. We listen to our customers and let them tell us what they need." At Chase, the I.C.U. system was installed and is supported as a service by Uni-Data, which will fix any problem in the system. "We are interested in providing traders with a video service," says Schimoler. "This arrangement insulates us from responsibility for both hardware and software integration and maintenance."
Convenient Features
I.C.U. works like a phone system but better. It offers convenient features such as directory services, speed dial, and a call log to track calls that come in when the trader is busy or out.
I.C.U. videoconferences currently support up to four participants. Participants can log in at any workstation on the network; they're not limited to one physical location. The I.C.U. system will track down the person they want to talk to, wherever that person is logged in.
Users choose from three levels of privacy for videoconferences. In open mode, an ongoing call can be joined by other participants. In manual mode, traders can see who wants to join the conference and decide whether to let them in. In busy mode, a call is private and cannot be interrupted.
Brenner says Uni-Data chose Parallax Graphics video because, "There is no other card that offers the same quality and reliability." Since the local Chase network uses uncompressed analog video, they use Parallax Graphics MultiVideo card for local video. Wide area network connections to other companies are handled through a codec that compresses video before long distance transmission.
Chase plans to add a connection to their London financial services office. And Uni-Data plans to add other features such as call waiting and video briefings. If clients wish, Uni-Data will add more points to the multipoint conferences and add four-channel receiving capabilities for news and data.
About Chase Manhattan Bank
The Chase Manhattan Corporation, with approximately $114 billion in assets, is a leading global financial services company with a strong domestic base. Through its global network, Chase serves corporations, financial institutions, governments and private banking clients as they raise capital, invest, move and manage their financial assets. Chase serves individuals with a family of financial products in the United States and has a full-service regional banking business in the New York tri-state market. In 1994, Chase had a net income of $1.2 billion.
For more information about I.C.U., contact Uni-Data Communications, phone (U.S.) +1 718 445 5600 or fax +1 718 445 5604.

---
[ Home ] [ New! ] [ Products ] [ Solutions ] [ Support ] [ Company ] [ Contacts ]
Copyright 1997 Parallax Graphics, Inc. All rights reserved.